Unique Directory Listing Travel
WordPress Theme
Build a professional Directory & Travel website such as popular Yelp, AirBnb, Flydesk, Culturetrip, Lonelyplanet, Triposo, Dorsia

Get Bundled Plugins for Free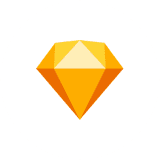 Sketch Design File
Sketch design source files go with your purchase
Pre-defined Demo
Unique demos created by professional designers. It not only a theme but also the real sites. Easy 1 click demo importer.
Listing Features
The best features to make a modern listing website.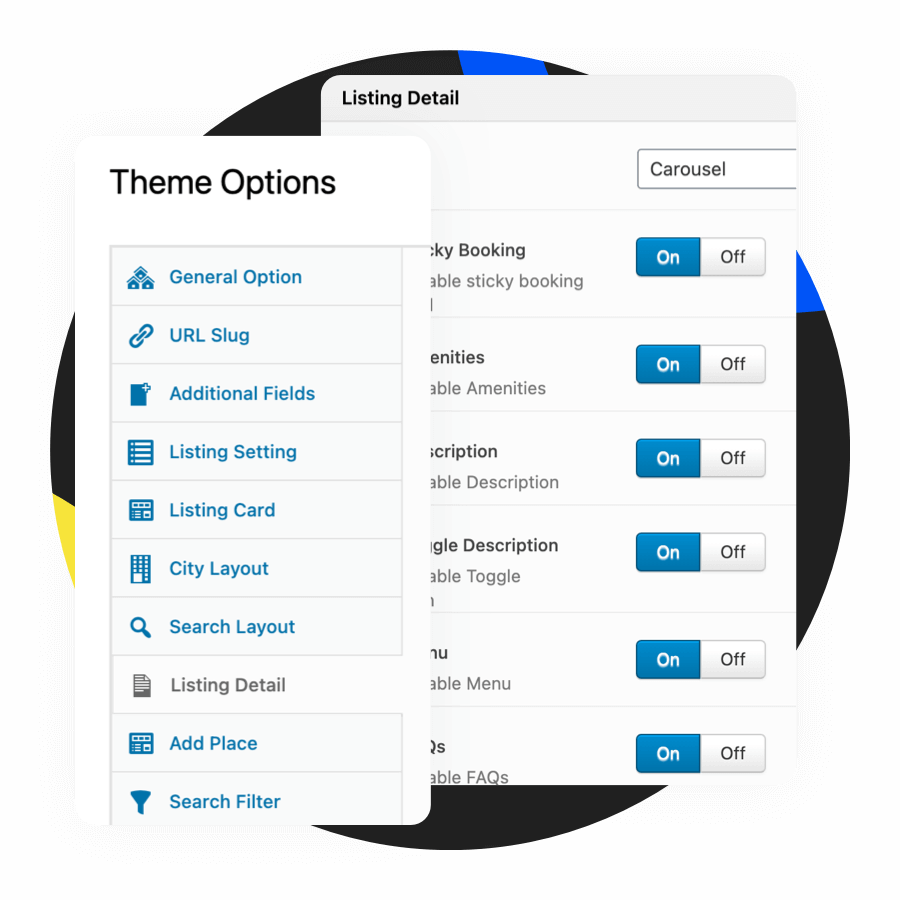 Theme Options
200+ Flexible options in Theme Options to help you control every section of the theme without having to write a single line of code.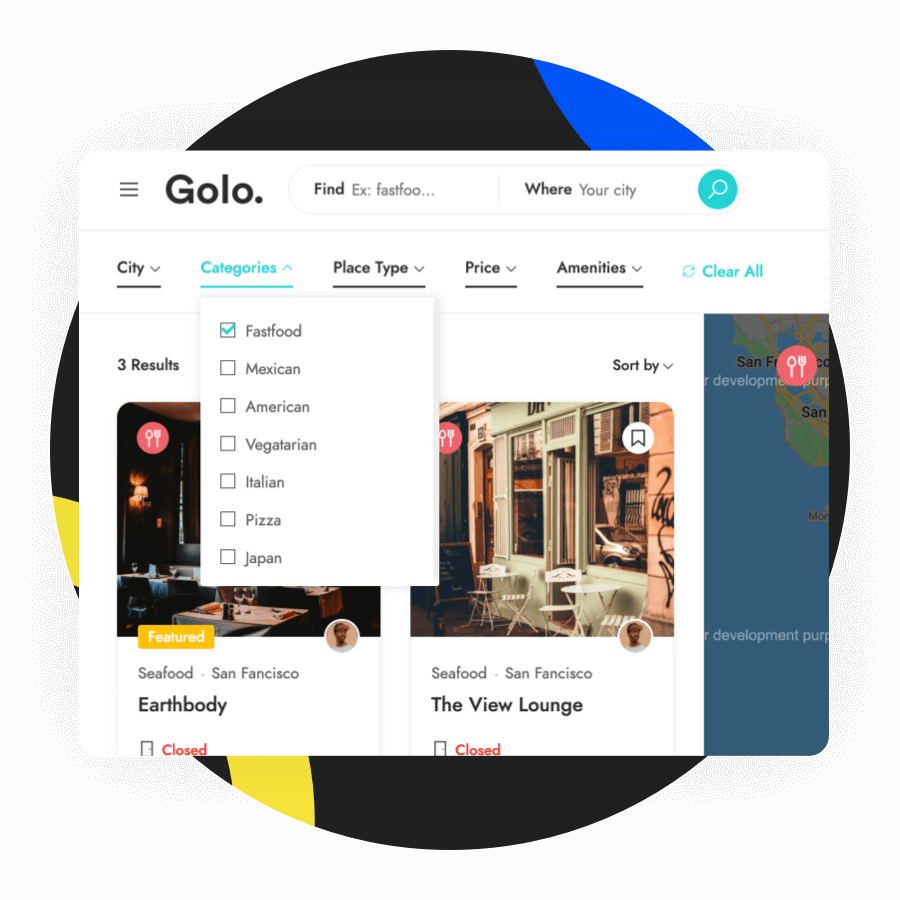 Strong & Flexible Filter
Advanced powerful filter, for best search results. Filter listing with: Type, Category, Amenities, Pricing, Cities. The filter elements can order and on/off in the theme options.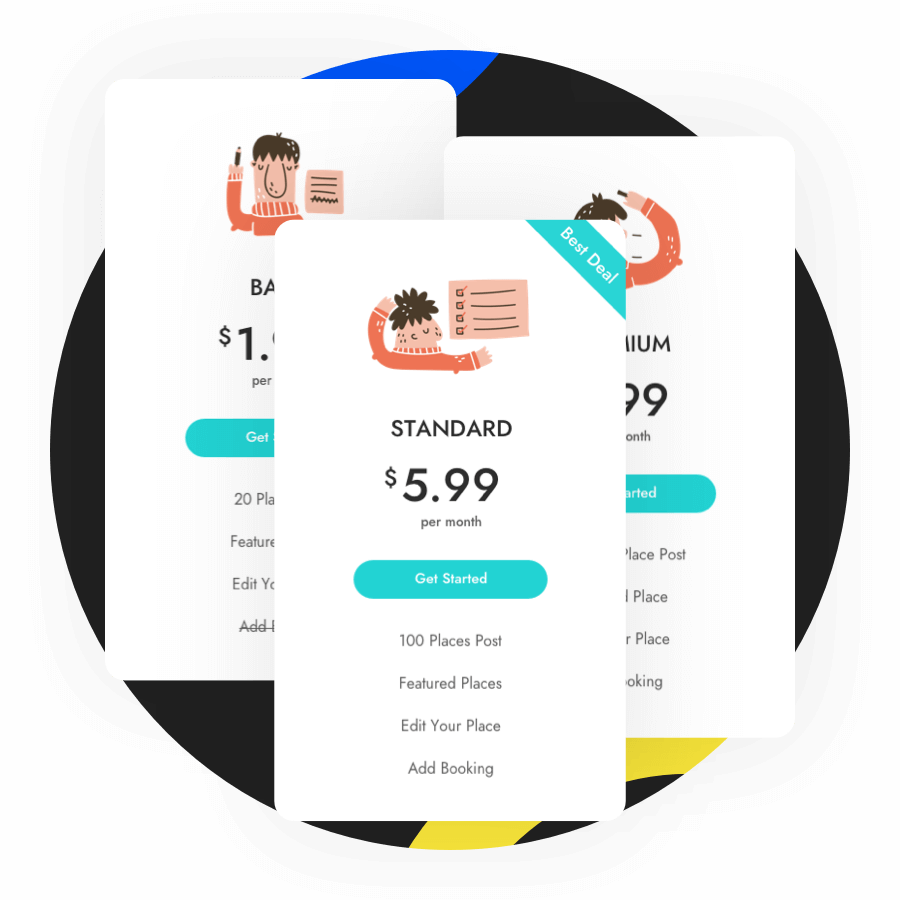 Membership Package
Support membership package, allowing Partner/Supplier can buy a package to be able to submit the listing by Free or Paid. Payment Method Support: PayPal, Stripe, Wire Transfer, Woo Checkout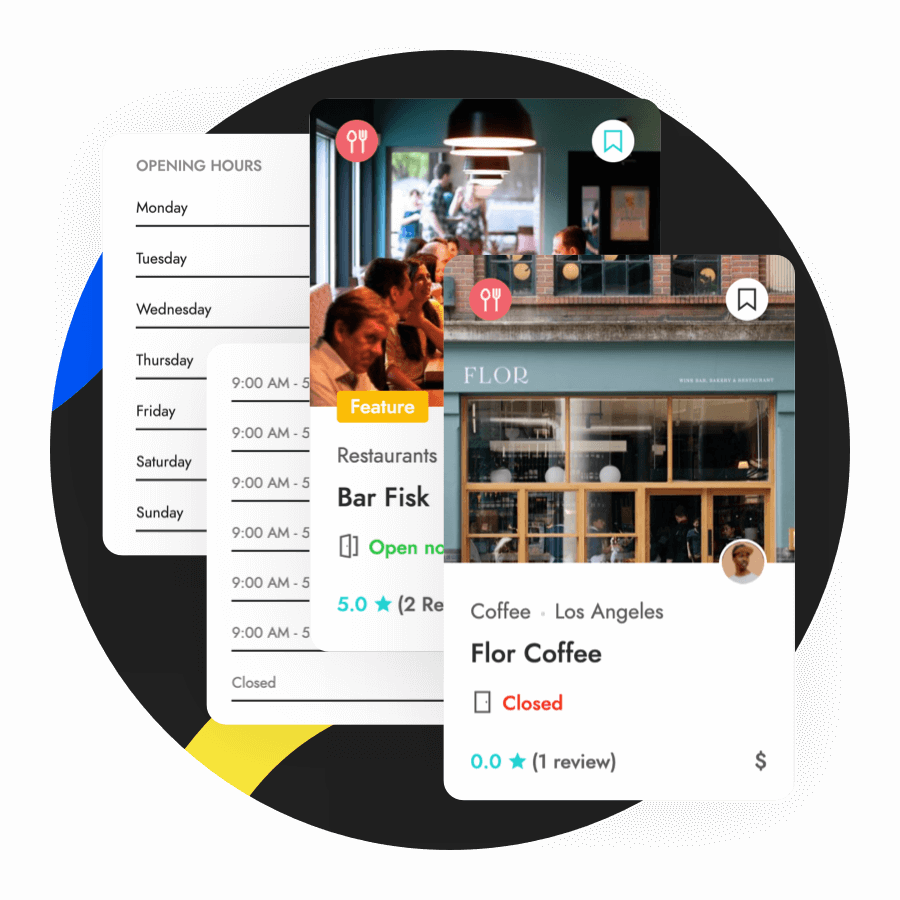 Business Hours
Allows you can set opening hours for 24 hours or by intervals to a day in the week. EX: 8:00AM - 11:00PM EX: 8:00AM - 12:00AM and 2:00PM - 11:00PM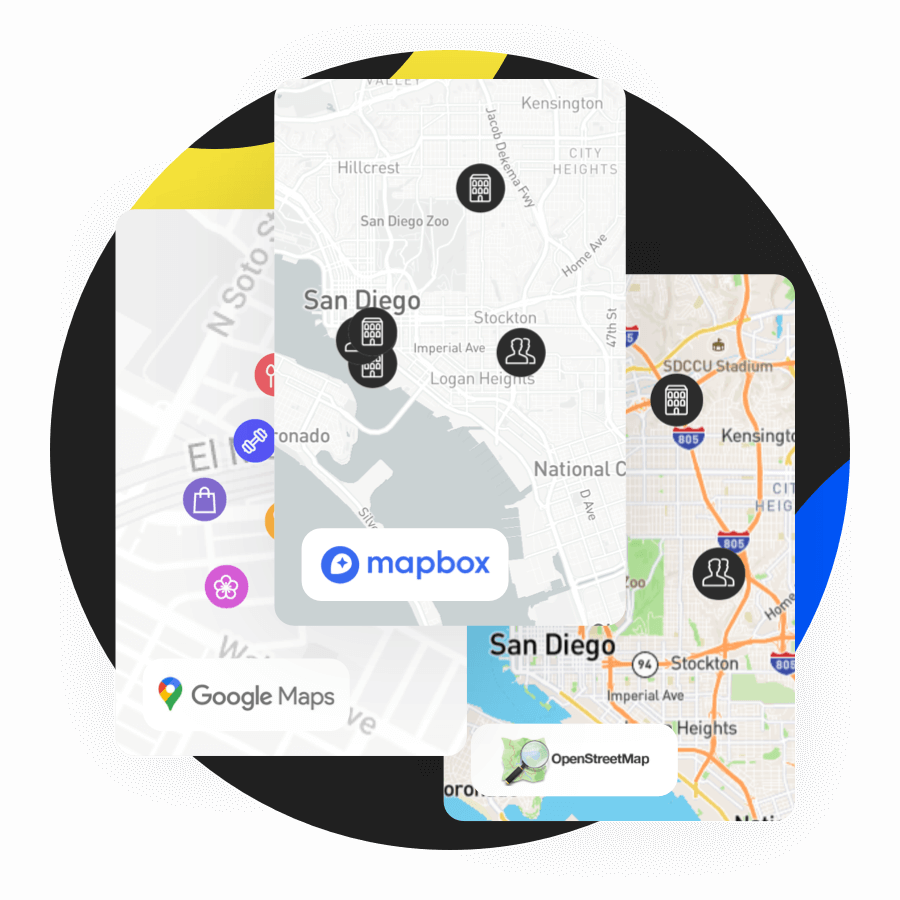 Various Map Provides
Google Map has required credit card details in order to use its API. But we got you covered as the Golo theme now comes with OpenStreetMaps and Mapbox support. You also can easily change the style of the maps.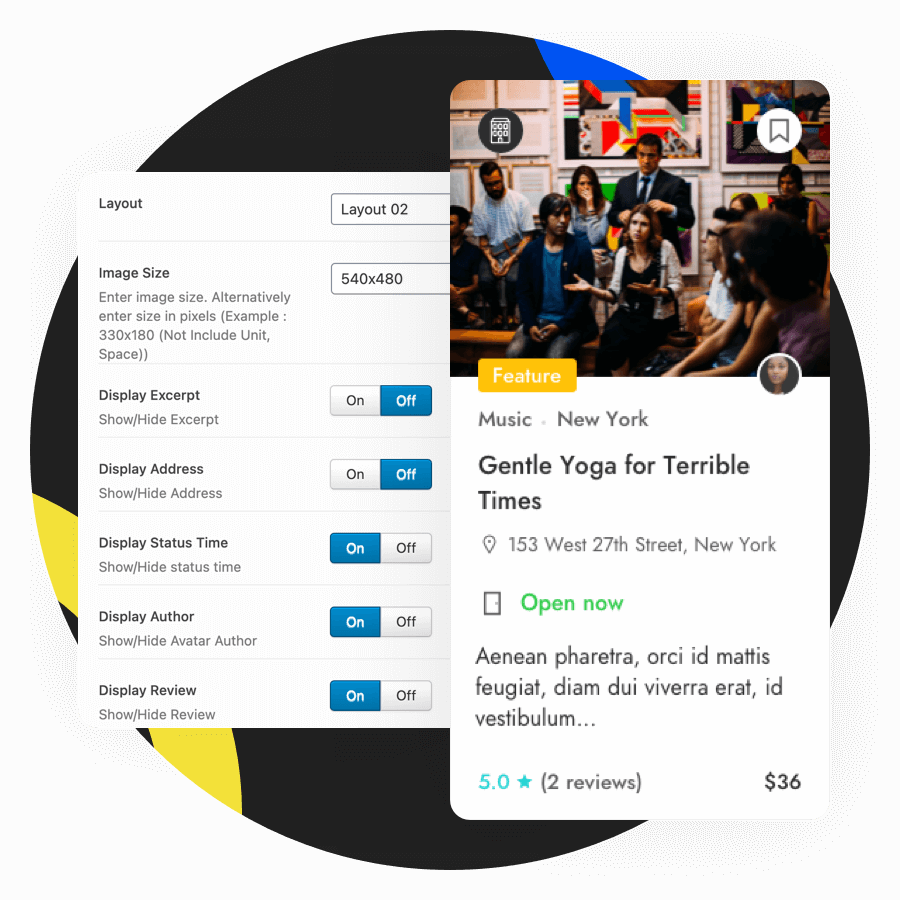 Custom Listing Card
Easily on/off address, business hours, except, author, review.. and easily choose the card style that you like.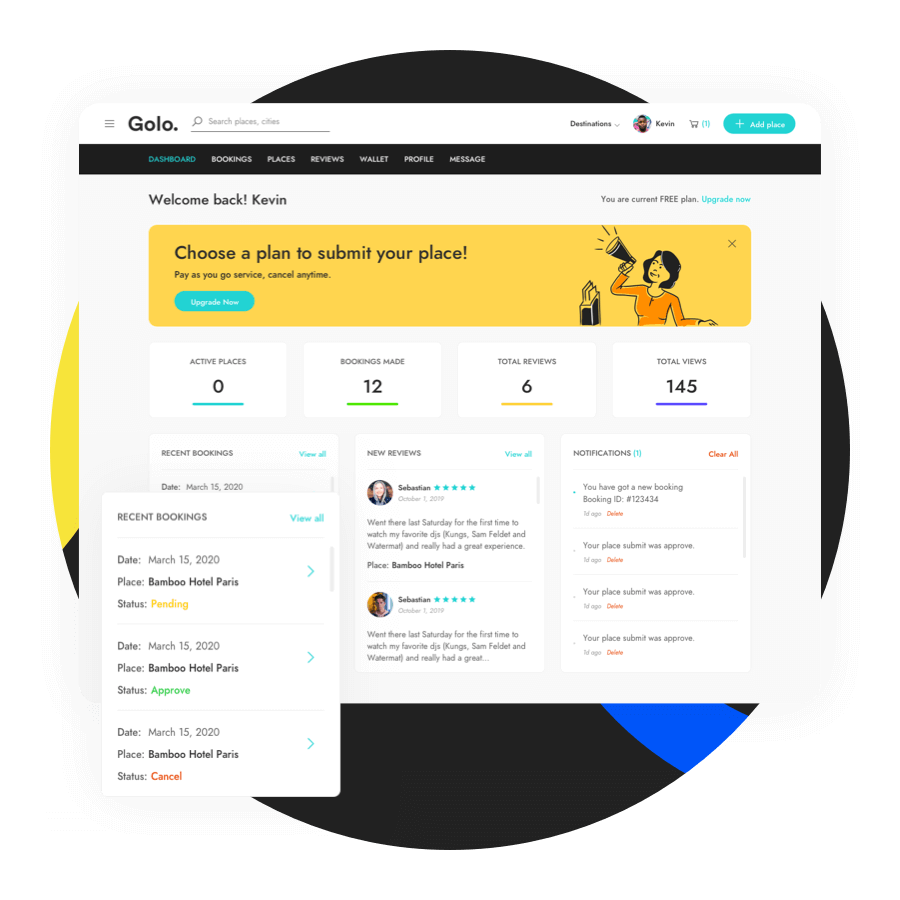 User & Partner Dashboard
Friendly User and Partner Dashboard is where Listings, Bookings, Package, Profile detail, Reviews, Private messages can be managed easily.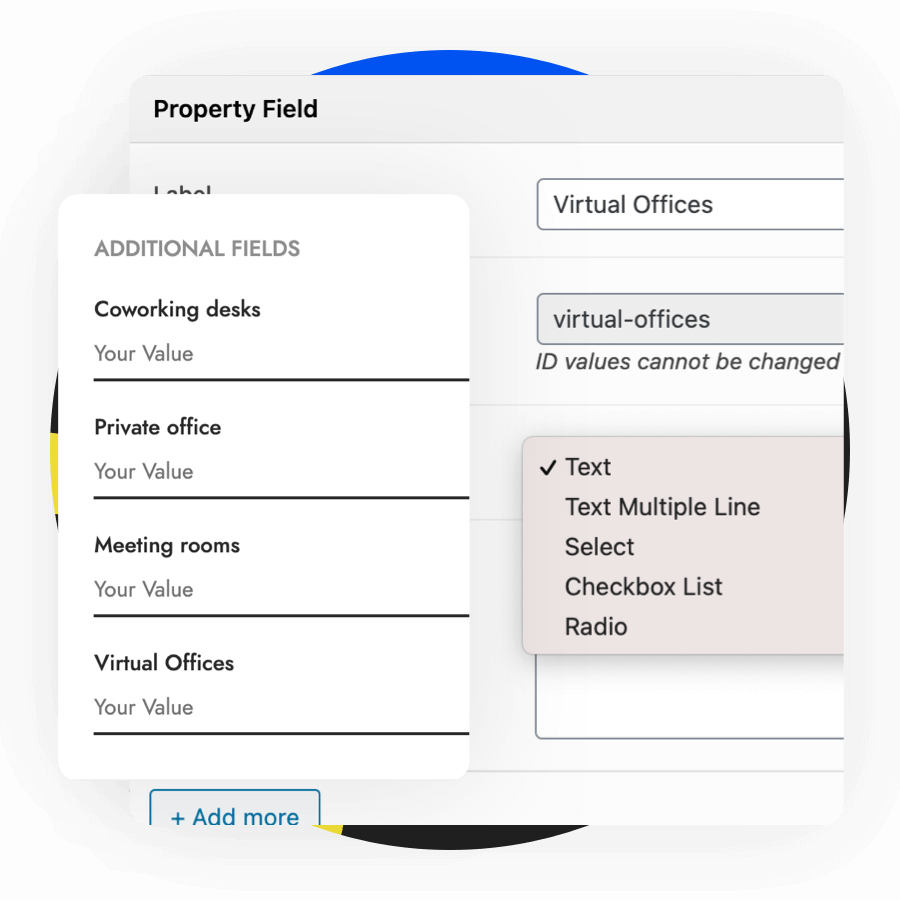 Listing Custom Fields
The built-in custom fields system allows you to customize the listing fully to your needs. You can create new fields, edit existing or delete them.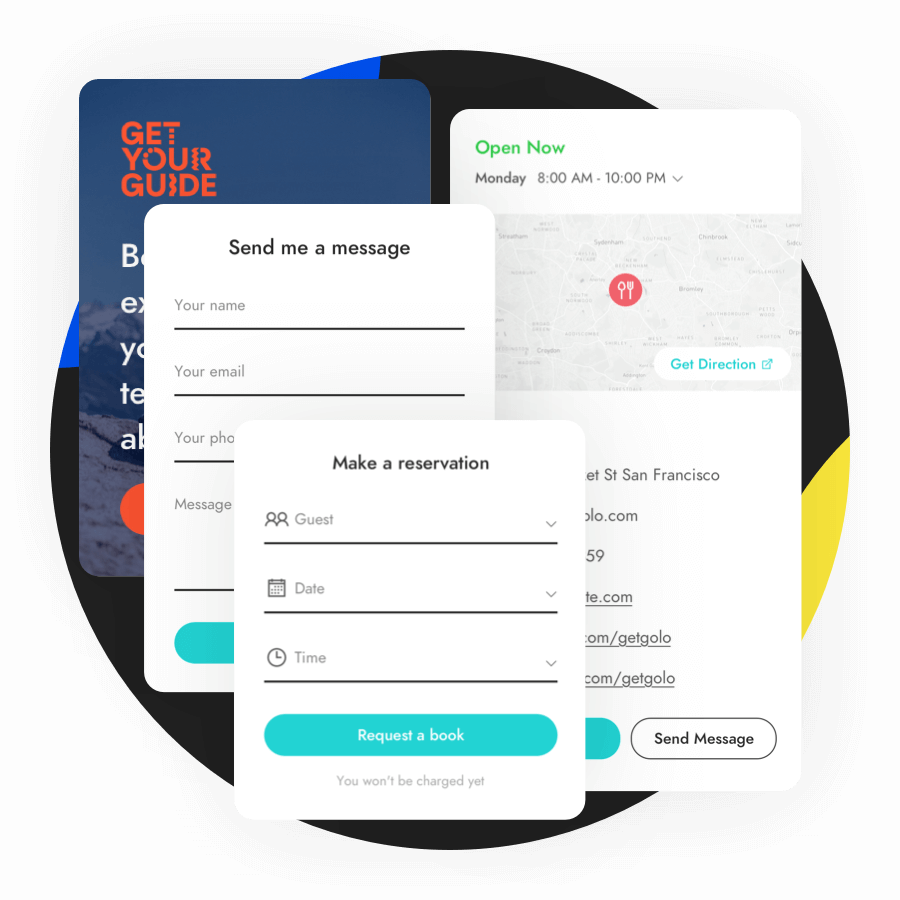 Listing Action Types
Set different actions for listing types like: Booking Form, Send Message, See Location & Contact, Affiliate Button, Affiliate Banner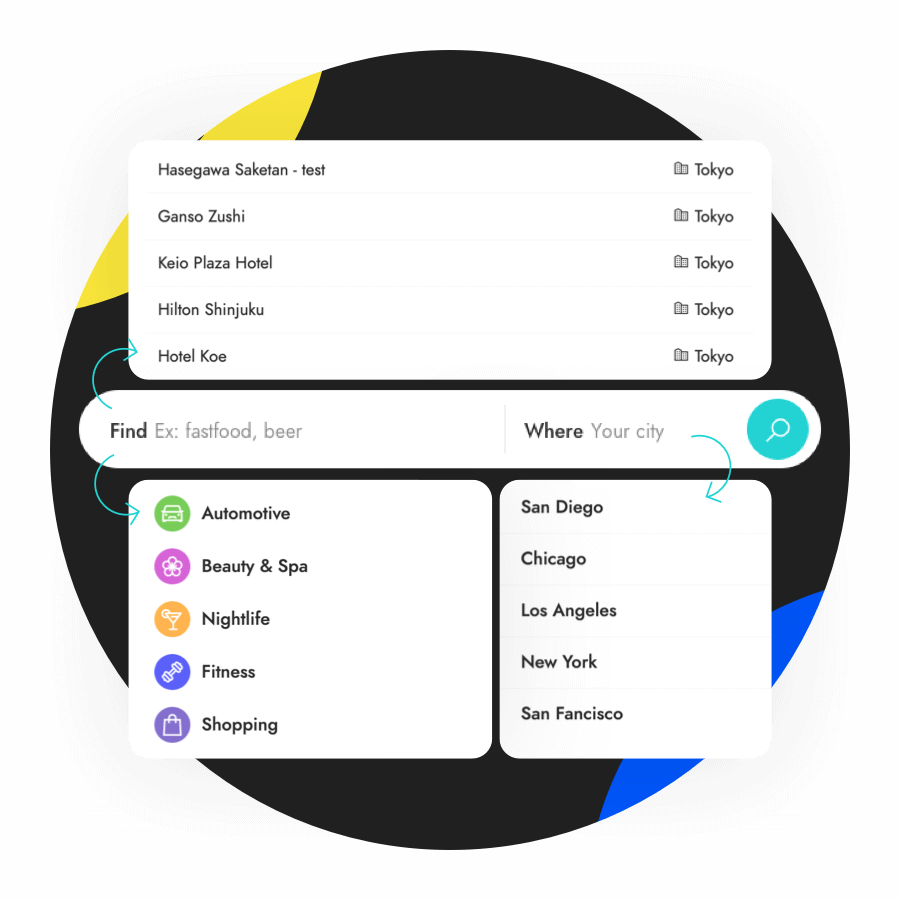 Smart Search
Smart search, flexible design. Users can search for listings, cities easily. There are many customized templates to choose from for your site.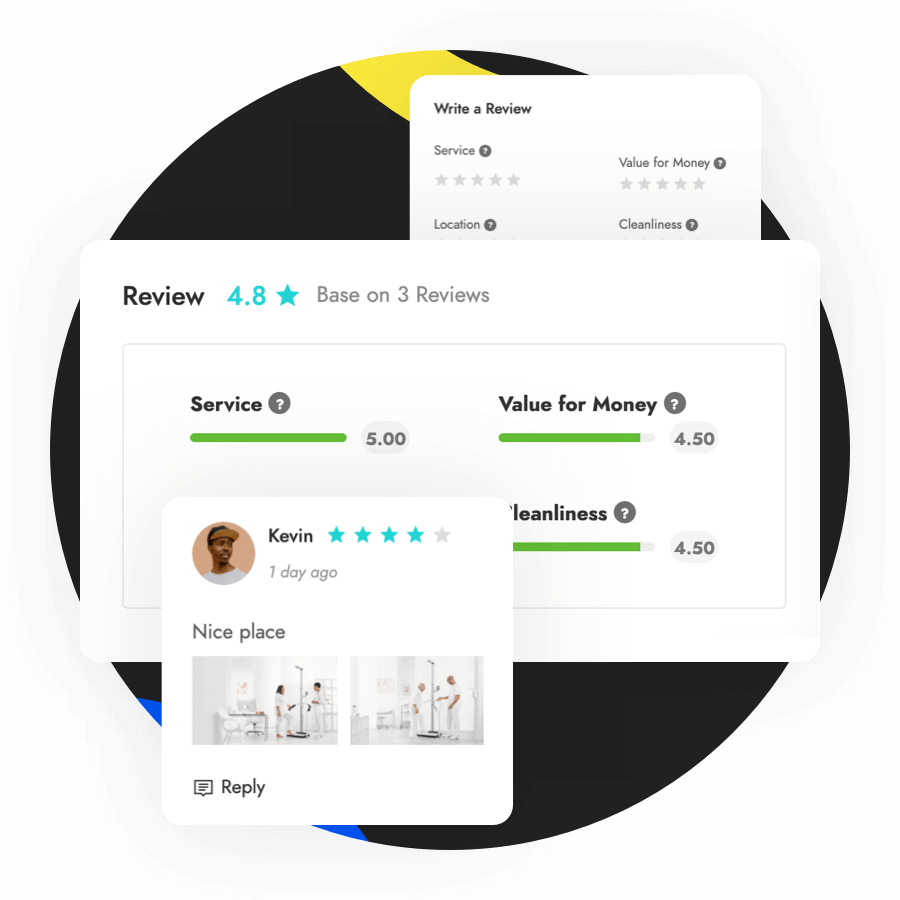 Multi-Criteria Reviews
New
Multi-criteria ratings allow users to express more differentiated opinions. Criterias are easily configurable and you create them as many as you wish.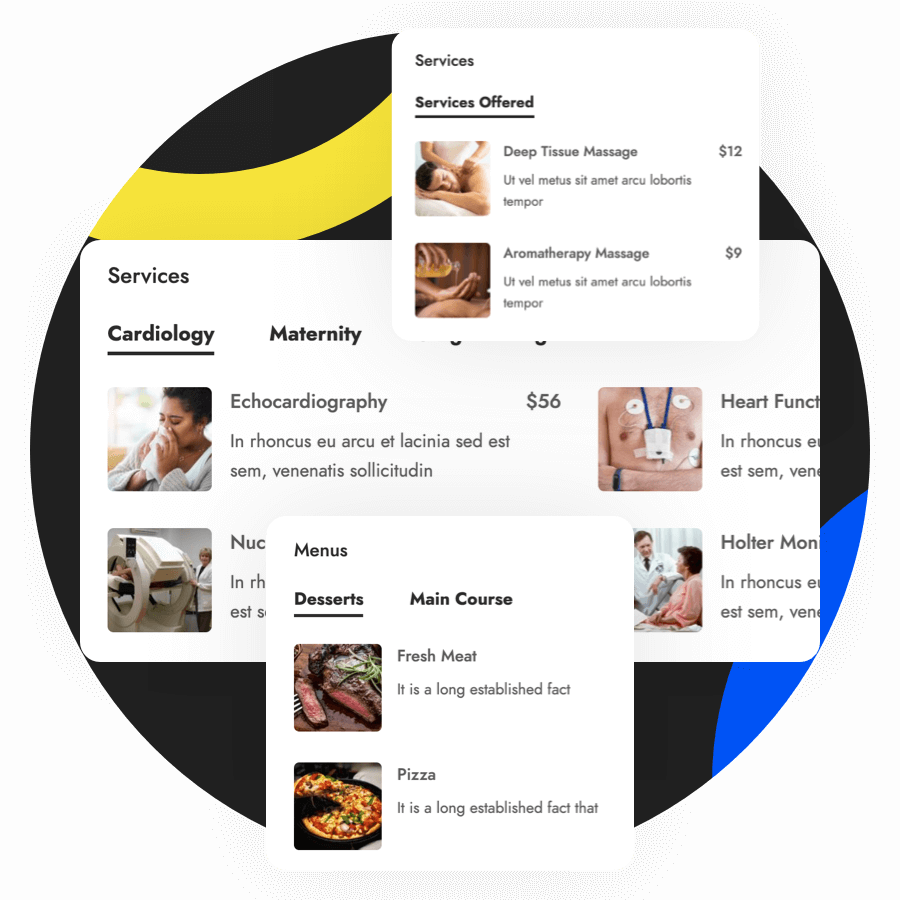 Menu Management
New
Restaurant and service businesses can create their food or service price list to offer a flexible menu arrangement.

Google Review
Golo allows embedding Google Reviews on listing detail pages. Don't need to use Google Business API.

Coupon Code
You can add coupon discount codes to listing detail that guest can be used for booking.

Coming Soon Page
Built-in coming soon page can give your website's launch a serious boost.

Woo Checkout
Golo supports WooCommerce Payment Gateway capabilities to buy Listing Package.

Elementor Supported
This is the best builder for WordPress with more than 2 million active users.

MULTI-LANGUAGE & RTL
Full WPML compatibility and RTL support allow you to create a powerful multilanguage website.

ONE CLICK INSTALLER
Clone all of the content in any of our demo sites to your site with a single click.

SHOPPING
Integrate shop in your site easily with WooCommerce, the world's best shopping.

Claim Listing
Allows users to submit a listing claim and, once approved, manage and improve their listing

Neighboorhood
It is children of City/Town that will display on the filter function of search result page.

Email Template
Flexible to make various email templates for notifications by shortcodes build-ins.

Translation ready
Compatible with Logo Plugin can be easily translated into any language.

OWNER & GUEST
Two different user roles for people who want browse or add listings.

SOCIAL LOGIN
Let your visitors create an account or login via Google, Facebook.

Yelp Reviews
Include in the listing body ratings of best restaurants, hotel, services...

Wishlist
Wishlist to save all services interested in by buyer ready supported.

Mega Menu
Switch to use mega menu with just a few clicks, support to display banners on the menu.

WP ALL IMPORT
Import your data to Golo from .xml or .csv file using our WP All Import extension.

Child-theme ready
A ready-to-use child theme that will preserve any source code changes.

Built-in icons
Icon packs (Line Awesome) to help you illustrate your content already included in the theme.

Header/FOOTER Builder
Modern header/footer types included in Golo for any type of website you want to build.

RESPONSIVE AND RETINA
Golo on all devices works with all the touch sensors. High-quality images, fonts and texts.

SEO ready
Best SEO practices included will help you climb the Google search ranking!
HIGH-SPEED PERFORMANCE
The quality code and minifying is what makes the theme work on high-speed performance.
Design Quality
The Golo is one of my favorite themes that offers top design quality and you can tell they are not cutting any corners to build a beautiful product for us. The support team usually respond within minutes of submitting my ticket. I am looking forward to future updates and the mobile app.

Powerbroker4
Themeforest User
Design Quality
The design is light and beautiful! Super theme! Technical support is excellent and super polite! I thank the entire UXPER team for their excellent work and willingness to always come to the rescue! I recommend GOLO to anyone who wants to create a travel site!

AwedooStudio
Themeforest User
Customer Support
Golo is a very good theme made outstanding by GREAT customer support. I have tried other city guides that looked good out of the box but sorely lacked in support to tailor them to my specific needs and in the end, never could accomplish my ultimate goal.

Design Quality
This theme is awesome, specially design. The author has worked hard to improve this product. I hope more features will be added in the near future to become a perfect theme of all. Cheers!!!!

Flexibility
Amazing work. I wonder how to change the main menu to the Home 2 which I found much more interesting ! Any help would be greatly appreicated !

Pixelgeeklab
Themeforest User
Customer Support
This is by far one of the best themes I've bought and worked with. The support that comes with this theme is even better than the theme. I am very pleased with both the theme and the support.

Delphilips
Themeforest User
Customer Support
11 years in Envato. This is by far the best item I've gotten here. Code, features, theme support. This guys are setting the standards to a new level. Congrats !

Feature Availability
Golo is an awesome theme perfect for a city/place website. The features are great and the technical support is fantastic. Overall I give a 5/5. Kudos team Golo!

Documentation Quality
The template is very good but the support is the best, they solve every problem and make this template the best on the market for their personalized attention, thanks Jerry and the team for their work and I hope to have news in future updates, cordial greetings.

Indicelogs
Themeforest User
Documentation Quality
The template is very good but the support is the best, they solve every problem and make this template the best on the market for their personalized attention, thanks Jerry and the team for their work and I hope to have news in future updates, cordial greetings.

Indicelogs
Themeforest User
Feature Availability
I love the theme. Its basically what I want i only need a small customization to satisfy my needs. Other than that I give you guys 5 stars for amazing work and dedication. Continue to excel

Web_Designer242
Themeforest User
Build an amazing directory
using Golo today!
© 2022 by Uxper. All rights reserved.